We conduct unique running tours in Ethiopia for individuals, running clubs, college teams, families or groups of friends alike. These tours combine training, cultural experience and fun while exploring some of Ethiopia's most beautiful places. During the tours, we handle all your transportation and accommodation needs with full lodging during all the training sessions by selecting ideal locations that enable you to train and rest under perfect conditions.
Our running tours usually start at the Kenenisa Sports Resort in Sululta followed by a trip to Bekoji, the famous town of runners that has produced numerous Olympic medal winners and World Champions.. From Bekoji we then head to Hawaasa in the Great Rift Valley, where the Ethiopian running icon Haile Gebre Selassie has build a top-class resort on the shores of Lake Hawassa. From Hawassa we will return back to Addis Ababa.
Our standard running tour lasts for 9 days and may be prolonged with attractive extension programs. You may either arrive early in the camp or prolong your stay in Sululta, You may of course of also opt for some exciting sight-seeing in Ethiopia or for participating in one of the scheduled international races around Africa, where we can give you our support for the race  registration..For those runners preparing for upcoming races in a very hot areas, we can also add special training days in the Ethiopian savanna, usually in Awash National Park, approx. 4 hrs. driving from Addis Ababa..
We will always be glad to help you planning your stay according to your individual training and travel needs.
Our Standard Running Tour
Day 1: Arrival in Addis Ababa and Transfer to Sululta
Morning:
You will be met by an Africa Running Tours representative at Addis Ababa International Airport and be transferred to the Kenenisa Bekele Athletic Village in Sululta, approx. 1 hour drive away from the airport.
Afternoon:
We will have a first light training session in Sululta to acclimatize to the altitude of approx. 2'700 m above seal level.
Overnight: Kenenisa Athletic Village, Sululta
Day 2:  Training in Sululta / Addis Ababa Sight-Seeing
Morning:
We will have our second training session in Sululta.
Afternoon:
After lunch we will explore some of interesting sights of Addis Ababa which include:
the Institute of Ethiopian Studies, where you can see a variety of artifacts from all the different regions reflecting the history and culture of the country. The building within the compound of Addis Ababa University was was also the former residence of emperor Haile Selassie.
the National Museum which among other exhibits the 3.5-million-year-old bones of the famous Australopithecus Lucy discovered in 1974.
Trinity Cathedral: this is the burial place of members of the imperial family and noted patriots; the cathedral is the most magnificent of its kind in the country, ornamented with carvings, mosaics and other artistic works.
Overnight: Kenenisa Athletic Village, Sululta
Day 3:  Training on Entoto Mountain / Mercato in Addis Ababa
Morning:
Today we will have our third training session on Entoto Mountain. Most Ethiopian athletes are frequently seen on the trails of Entoto Mountain with an altitude between 3000 – 3200 m above sea level for high-altitude training sessions.
Afternoon:
After lunch we will explore the Mercato in Addis Ababa. A visit to this biggest market in Africa is always always quite an experience.
Overnight: Kenenisa Athletic Village, Sululta
Day 4: Day Trip to Menagesha National Forest
For those who would like to chose this option, we can organize an early morning hot air balloon flight over the beautiful Menagesha Forest area. Otherwise you may join us for just an "ordinary" day excursion to this beautiful spot. Menagesha is one of the prettiest stands of forest in Western Ethiopia and an easy day trip from Addis. Almost a dozen trails (up to 9 km in length) meander through the forest, with one even heading above the treeline to Mt Wuchacha's 3380 m summit. This makes it a great spot for today training program (showers are available at the headquarters). Watch out for black-and-white Colobus (monkeys) along the trails, as well as bushbucks, while birders will love the chance to see Ethiopian specialties such as the yellow-fronted parrot, Abyssinian catbird, black-winged lovebird and banded barbet. On the crater's western slopes, some of the giant juniper and wanza (Cordia africana) trees are said to be over 400 years old. The forest is accessed via the small town of Sebeta, roughly 30 km from Addis.
Overnight: Kenenisa Athletic Village, Sululta
Day 5: Addis Ababa to Bekoji (218 km)
Morning:
After breakfast, will drive from Addis Ababa to Bekojji (approx. 5 hrs.). Bekoji is not only the birth place of Kenenisa but of many more Ethiopian professional runners. Amazingly enough this small countryside town has produced more Olympic medalists to date than for example the whole of India. Moreover, Bekojii is a good spot to get a glimpse of Ethiopian rural life.
Afternoon:
From Bekoji, we will drive up to the beautiful Arsi Mountains plateau for a very scenic high-altitude afternoon run (altitude approx. 3000 m)
Overnight: Wabe Hotel,  Bekoji
Day 6: Bekoji to Hawassa (152km)
Morning:
After breakfast we drive from Bekoji to Hawassa (approx. 4 hrs.)
Afternoon:
In Hawassa you can relax at the great resort of the Ethiopian running legend Haile Gebre Selassie. From gym, sauna, steam bath to beauty treatment nothing should be missing here and the sunset over lake Hawassa usually is fantastic. We also will go on a boat trip on the lake to look out for hippos and many different bird species.
Overnight: Haile Resort,  Hawassa
Day 7: Hawassa – Sululta (310 km)
Early in the morning, you may visit the interesting and authentic fish market of Hawassa, After breakfast we will then start our drive back to Sululta (approx. 6 hrs.). On the way, we will stop at the Abyata Shalla National Park where you can enjoy fantastic views of the Great Rift Valley Lakes. This is also the place where once a year in August the Ethiotrail, one of Ethiopia's most established trail races, takes place. We will reach back in Sululta in the late afternoon.
Overnight: Kenenisa: Athletic Village Sululta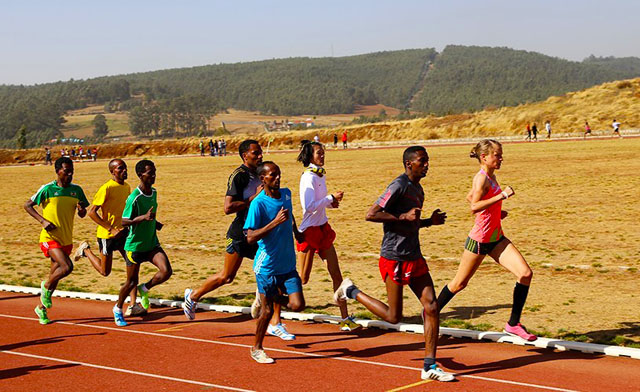 Day 8: Final Training Day in Sululta
Today we will have our final training day in Sululta. We also hope to meet Kenenisa Bekele for a  "Meet and Greet".
Evening:
We will have a "Good-Bye" group dinner.
Overnight: Kenenisa: Athletic Village Sululta
Day 9: Transfer to Addis Ababa Airport and Departure
If you are not staying in Ethiopia, you will be transferred to Addis Ababa Airport for your departure.
Departure or Individual Extension